GSV Startup Bootcamp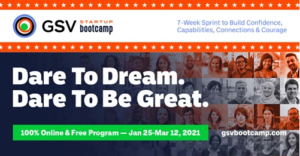 Dare to dream. Dare to be Great.
GSV (Global Silicon Valley) launches the second edition of the GSV Startup Bootcamp, a 100% ONLINE and FREE program for entrepreneurs and innovators from around the world, lasting 7 weeks, starting this January 25!
The program includes weekly sessions to start with all the energy and motivation, with speakers of the stature of:
1. John Chambers, Former CEO & Chairman, Cisco Systems.
2. Jeff Hoffman, Chairman, Global Entrepreneurship Network.
3. Arun Kumar, CEO & Chairman, KPMG India.
4. Ronnie Lott, NFL Hall of Famer, Entrepreneur, Philanthropist.
5. Rachael Jarosh, President & CEO, Enactus.
6. Michael T. Moe, Founder, GSV.
7. Among other Global Entrepreneurs and Investors.
In addition, during the week you can participate in small groups organized by Affinity, Industry or Region, where you can openly express your doubts and meet like-minded entrepreneurs.
There will also be weekly question and answer sessions with Michael Moe, founder of GSV, and the Bootcamp ends with a pitch to investors. This is your chance!